| | |
| --- | --- |
| | |
| Converter box | Ready to use |
How to use a Pc headset with your amateur radio.
Maybe you have seen the very nice looking headsets being a part of your children's computer setup, and maybe you have imagined having just as nice a headset in your radio setup. Then why not skip the old and heavy radio headset, that you got from your grandfather, and use one of those nice lightweight headset out there at the computer marked? And don't worry, you will sound just as well as always, and in many cases a lot better then before.
The only thing you really need is an adapter to interface the mini Jack plug to the microphone socket in your radio, and supply a little amount of power to the microphone. But this was almost to easy, so I decided also to make a preamp for the electret microphone element, normally used in a Pc headset. The preamp gives you the opportunity to connect almost any kind of headset to this little adapter.
I have tried 3 difference Pc headset, and everyone of them sounded great. Of cause, one of them was "the winner", so now I only use a Creative HS-300 for all my SSB QSO´s.
You can see a Schematic of my project here: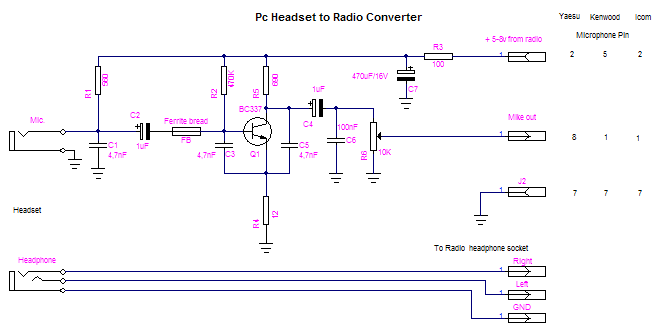 Schematic
| | |
| --- | --- |
| | |
| PCB Close up | Creative HS-300. My choice |
Good luck with your own project..... de OZ1JTE.